Welcome to the Town of Saltcoats
Saltcoats is a growing community. It has several locally owned businesses, active community organizations, a K-8 school, preschool, daycare, and a variety of cultural and recreational facilities. Saltcoats is located 27 km from the City of Yorkton. Due to the picturesque setting of Anderson Lake, Saltcoats has

earned the title of "The Laketown".
---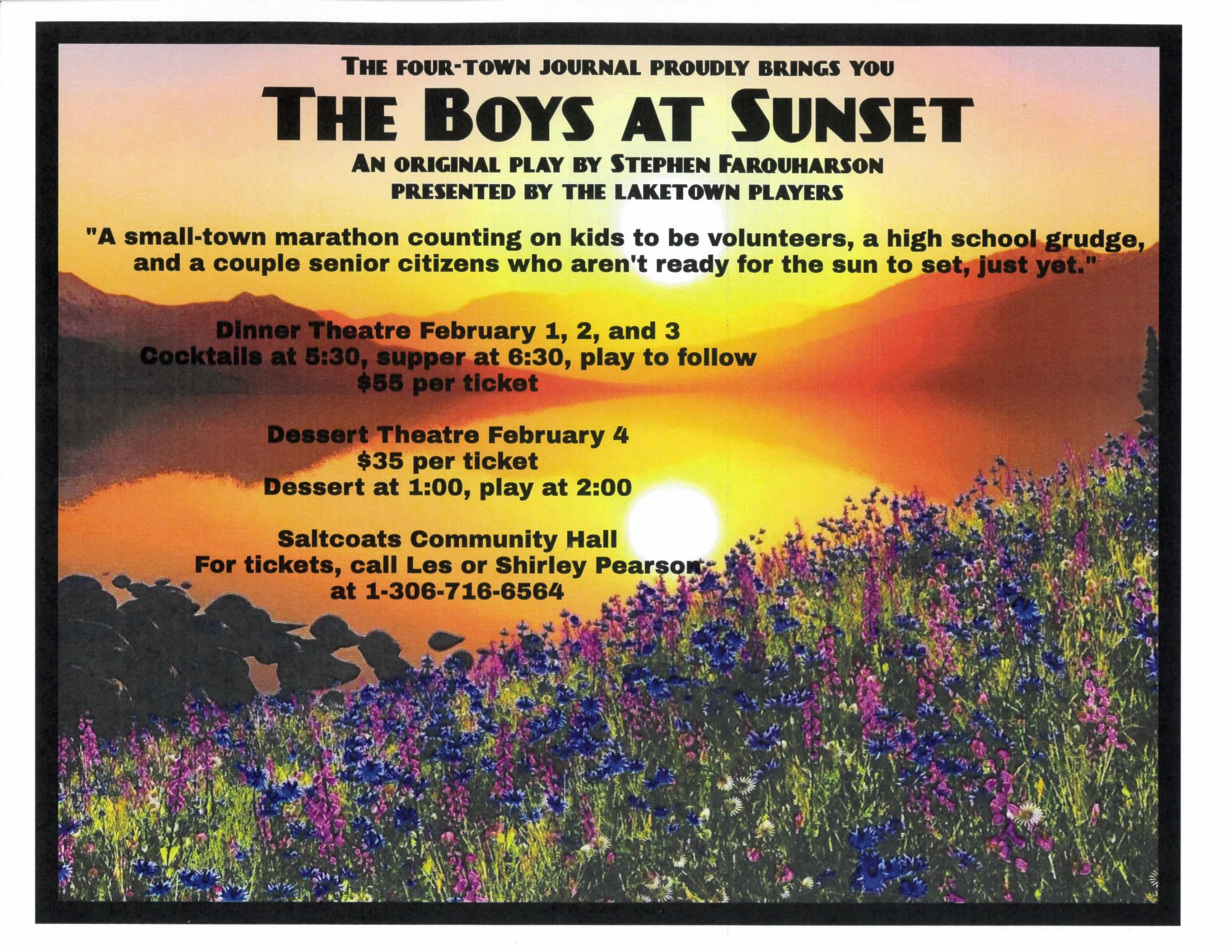 ---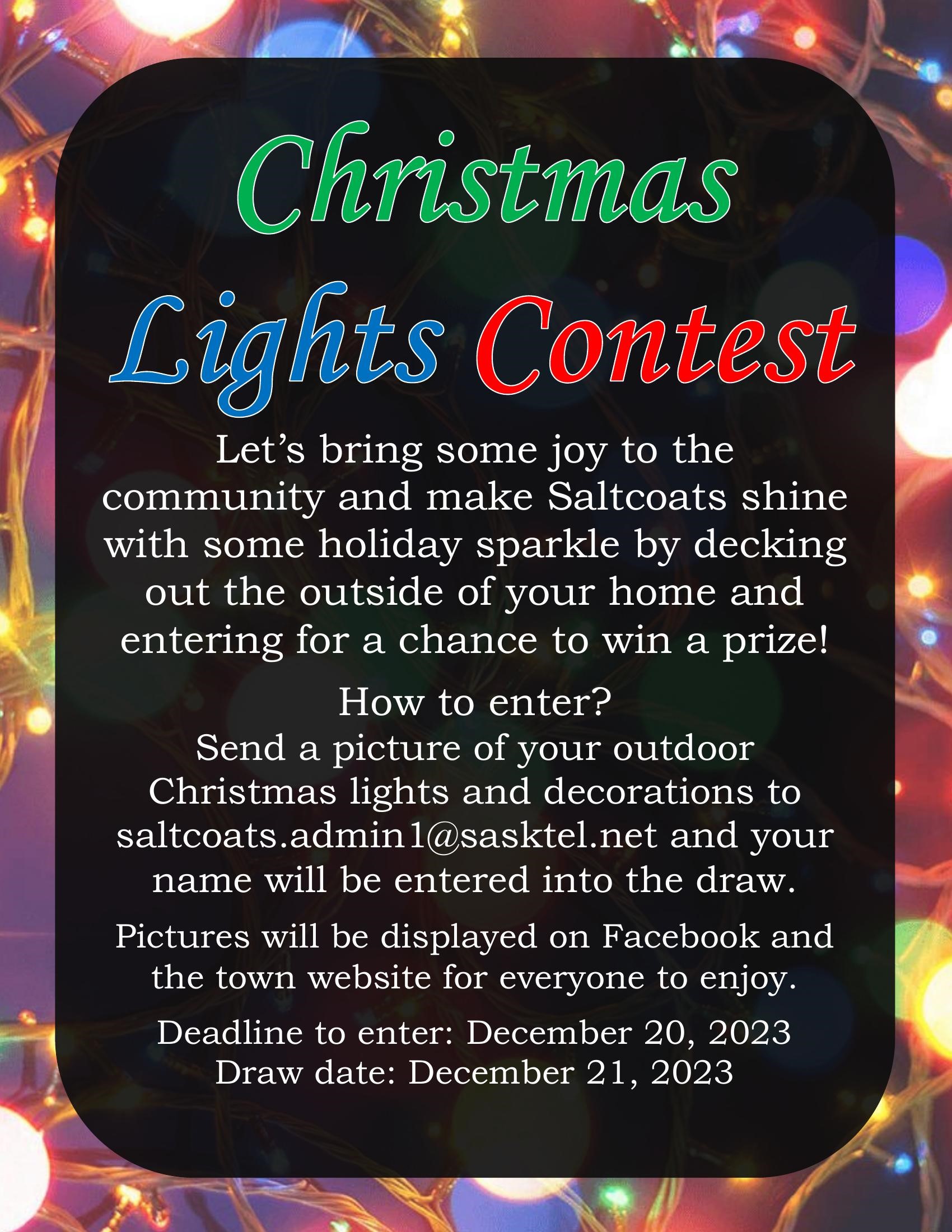 ---
Public Notice: Offical Community Plan and Zoning Bylaw Adoption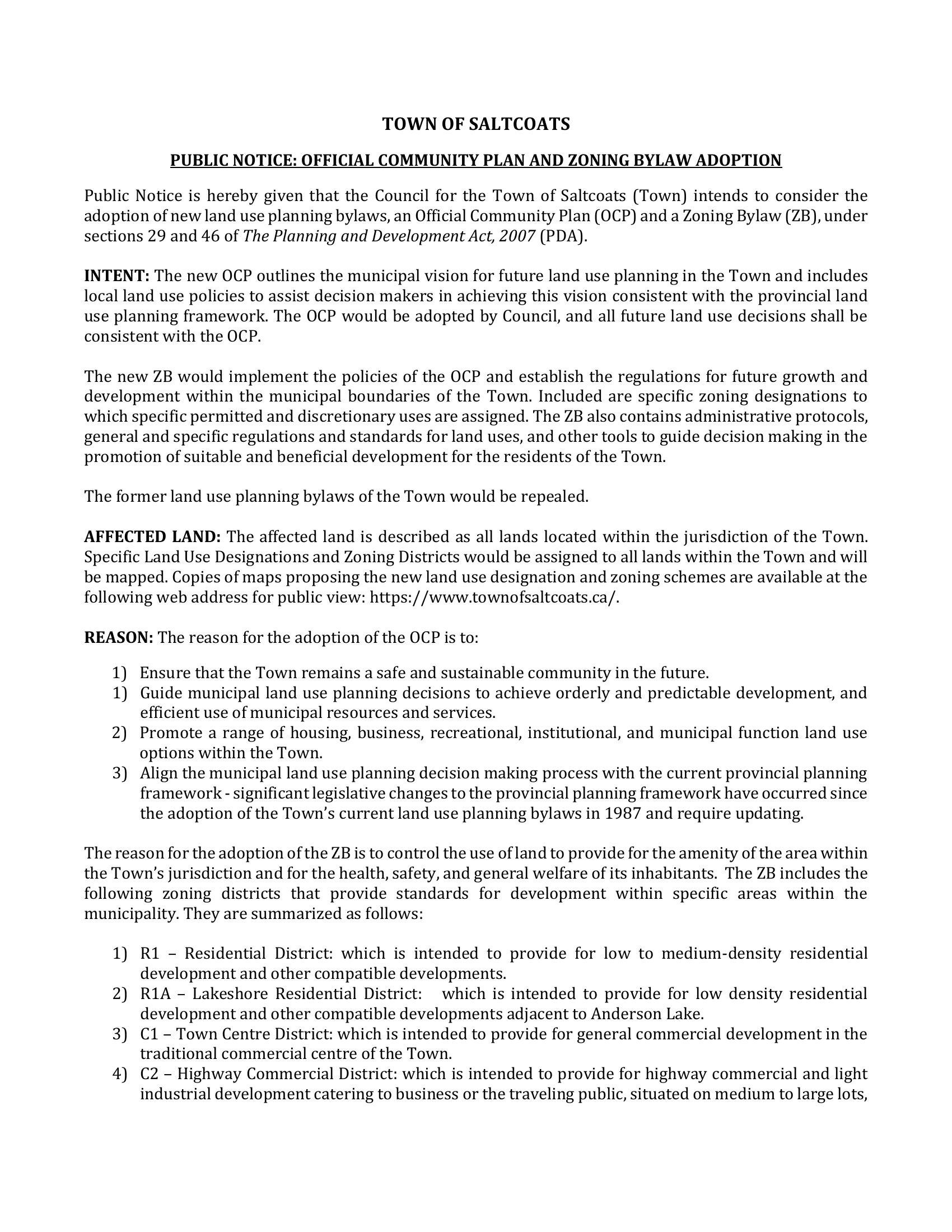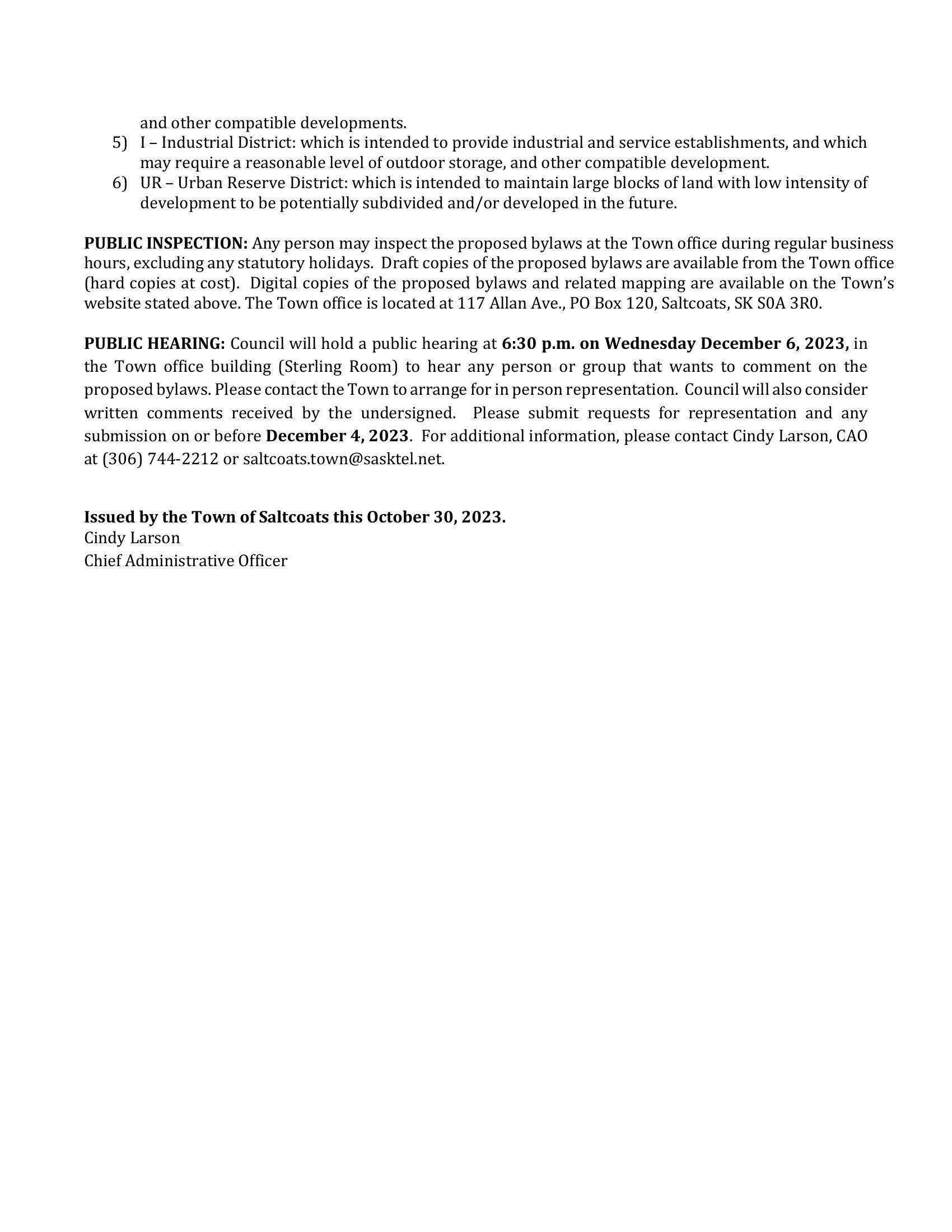 Official Community Plan
Zoning Bylaw
Future Land Use Map
Zoning Bylaw Map
---
---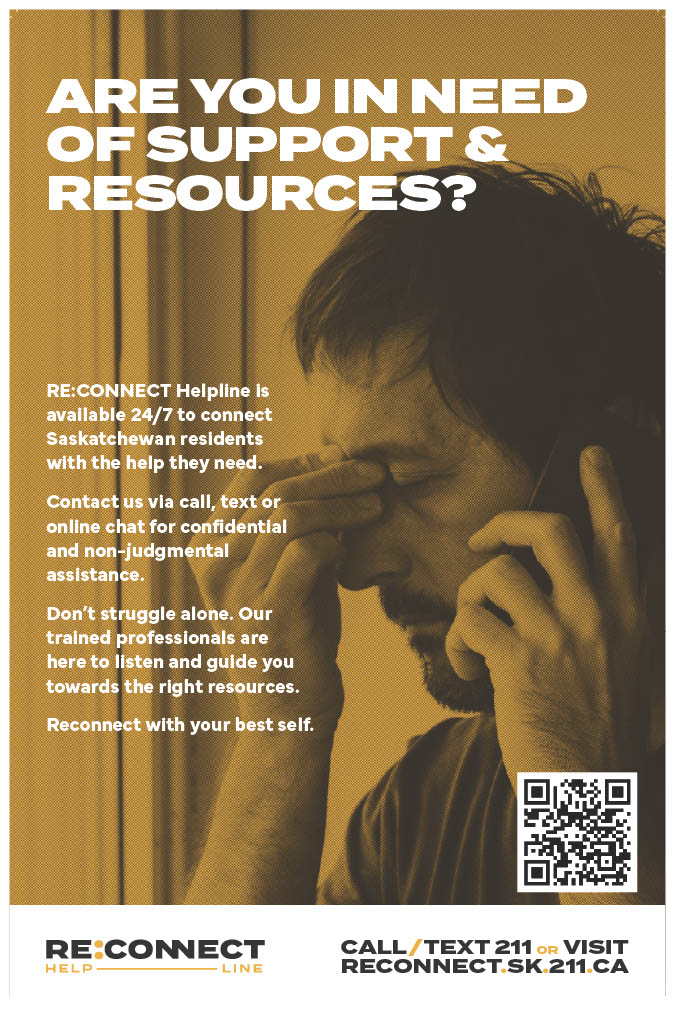 ---
EMPLOYMENT OPPORTUNITY
Come join our team!
The Town of Saltcoats is looking for a Temporary Public Works Assistant.
The successful applicant must have a valid Class 5 driver's license.
Water and wastewater knowledge are not required but would be an asset.
Experience in the operation of motorized mechanical equipment including tractors, mowers, and one-ton or larger trucks is an asset.
Applicant must be physically fit and able to perform moderate to heavy manual labour, work well within the team, complete tasks in a safe and effective manner, basic understanding of landscaping and grounds maintenance, the ability to accept, comprehend and carry out verbal and written instructions and must be able to maintain confidentiality.
If this sounds like you, please send your resume complete with references to:
Town of Saltcoats
c/o Cindy Larson, CAO
Box 120, Saltcoats, SK S0A 3R0
Email: saltcoats.town@sasktel.net
Fax: (306) 744-2239
For more information or a copy of the job description please call (306) 744-2212.
---
Public Information Meeting Packet 2023
This information packet includes the results of the 2023 Public Information Questionnaire and other remarks. Click here to view the packet.
---
For Sale
RO system and softener salt system located in the Community Hall.
Asking $1350 for everything.
If interested, contact the Town Office at (306) 744-2212.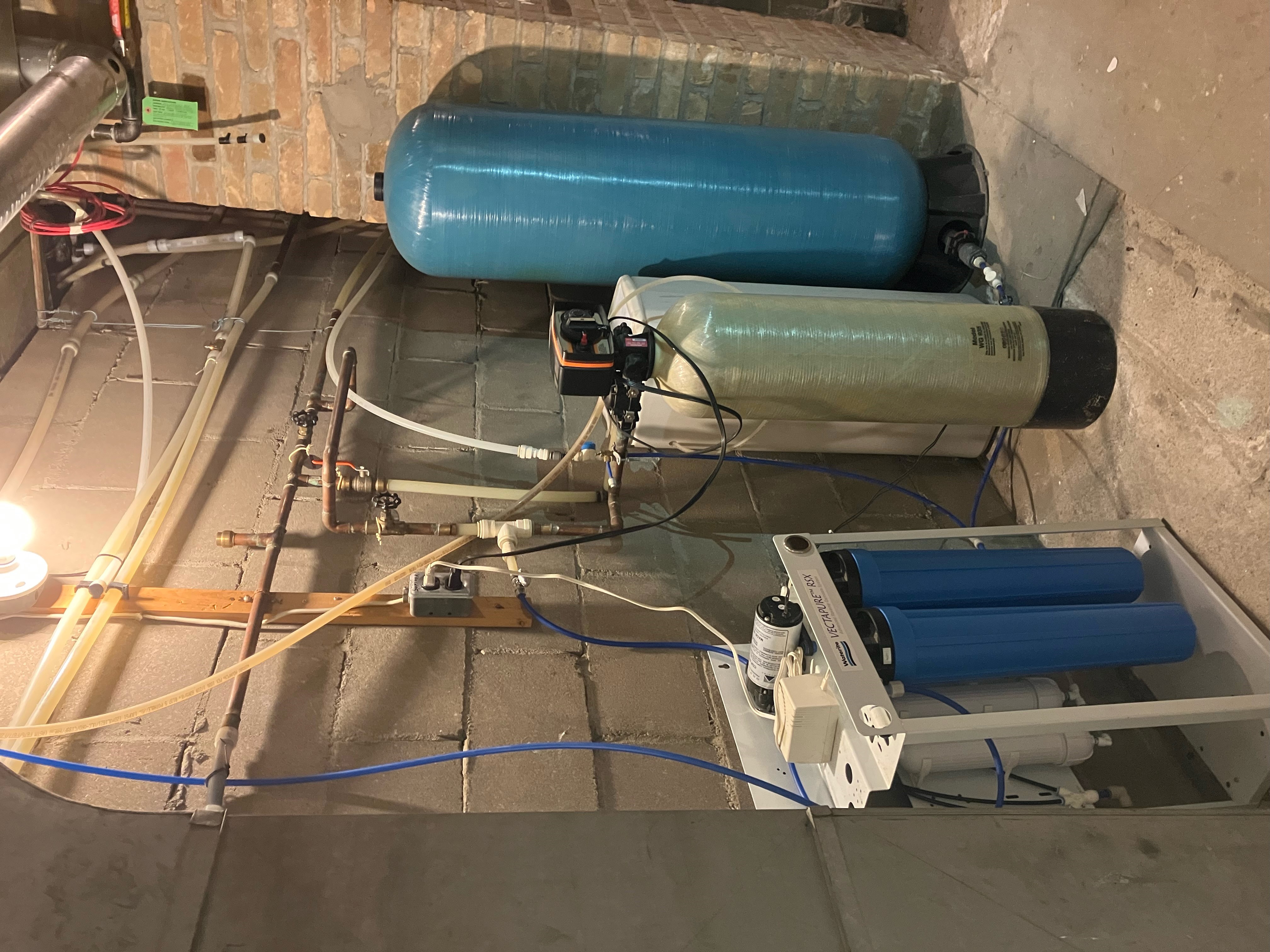 ---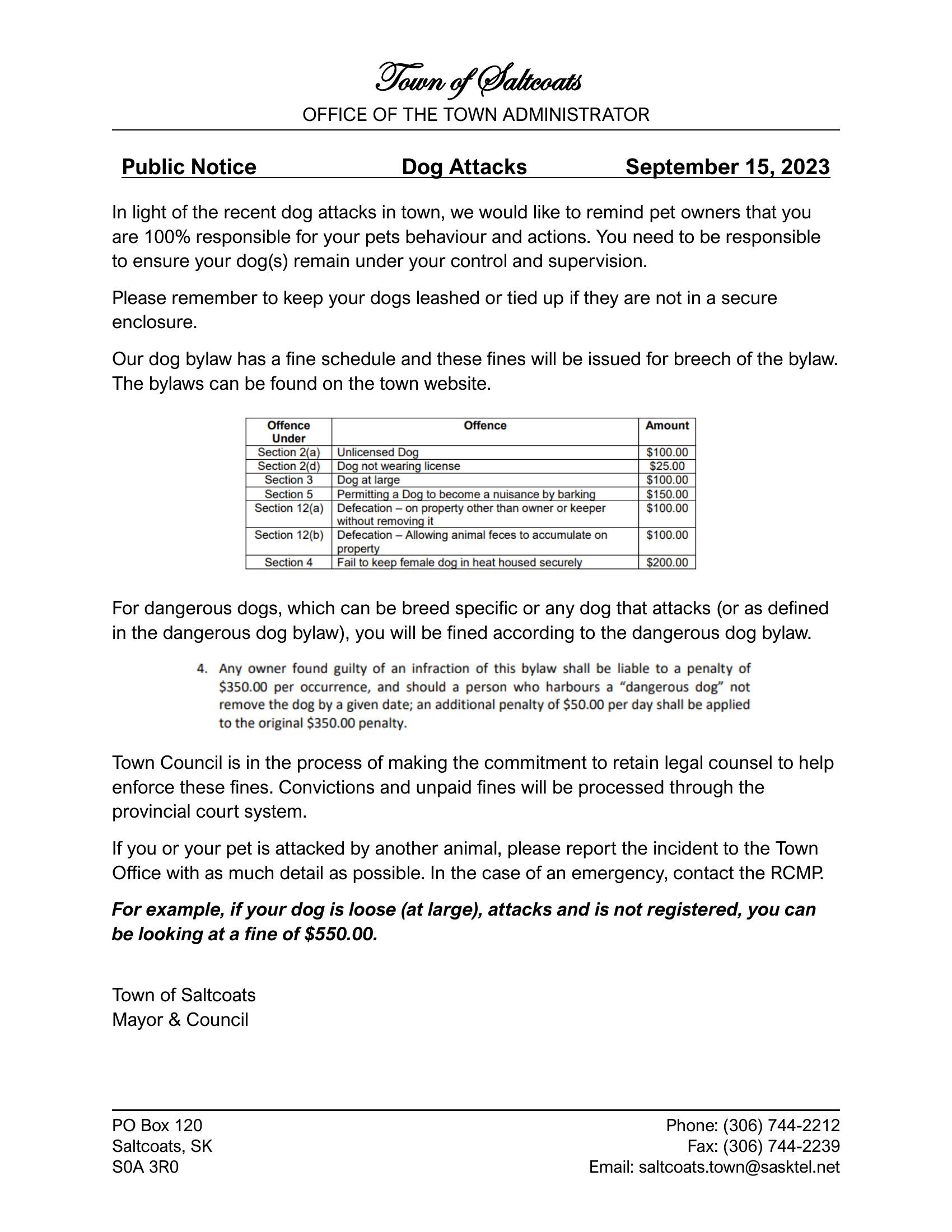 ---
School Bus Safety
School is back in session and that means school buses are back on the road. We have received complaints of motorists passing buses while the red flashing lights are activated and children are loading/unloading.

When approaching a bus that has its red flashing lights activated, motorists must stop no closer than 5 meters (15ft) from the front or back of the bus. You may only proceed once the red flashing lights have stopped. Before moving, check to see that all children have safely crossed the roadway.

Passing a school bus with red flashing lights is a serious offence and motorists will be reported to the RCMP.
---
Leaks and Water Usage
Please ensure that there are no leaks in your water system as no adjustments/reductions can be made to your water bill for excessive consumption which may have resulted from a leak, burst pipe or fixture malfunction.
Suspect a Leak? Try these options:

Check taps, toilets, faucets, pipes, hoses, water softeners, water filters, humidifiers, and sprinkler systems for possible leaks. Any type of malfunction with your water softeners, humidifiers, irrigation system or air conditioning systems could be very costly.
Put food colouring in your toilet tank and if it seeps in the toilet bowl without flushing there is a leak.
Check your water filter system, these units can automatically go on "self-clean" mode, consuming thousands of litres of water daily.
Water Filtration Units and High Water Bills
Some houses use appliances such as humidifiers, water filtration units and water softeners that make the home more comfortable and can also use significant amounts of water. It is important that homeowners understand how these types of appliances work and how to control the amount of water they consume.
All appliances can malfunction and some water filtration units have been linked to extreme excessive water consumption. If you own any water filtration unit, we encourage you to monitor it regularly to ensure it is operating properly.
An increase in water use will result in high water bills. Water bill usage is based on the previous three months. If you think you have extreme usage this could be a result of many issues - outdoor watering, leaking tap, leaking outdoor tap or hose, water softener issues, ice makers and toilets, just to mention a few. You are responsible for the cost of all water that passes through your water meter, whether it is used or wasted.
The meters are electronic and the readings are automatic with an electronic reader. The town bills based on these numbers. We have yet to find a faulty water meter in town.
A simple way to test your meter is to read the meter, fill a 5-gallon pail, then read your meter again. This can help verify proper function.
The meters can generate an hourly report showing how many gallons have been used per hour during the previous billing period. These reports can be many pages long and are available for the cost of the printing if desired.
---
Golf Cart Bylaw
The Golf Cart Bylaw has been approved by SGI and is in full effect.
Please follow the bylaw when driving golf carts around town.
Slow moving vehicle signs are available for purchase at the Town Office.

---

---

---
2023/2024 SaskTel Phonebooks are available at the Town Office.
Grab one before they're gone!
Business Licences
Business licences are due for 2023. Fees for business licences are as follows:
• Owner of a commercial property in the Town of Saltcoats - No Charge
• Resident or ratepayer in the Town of Saltcoats - $40.00
• Resident or ratepayer in the R.M. of Saltcoats or other rural municipality but having a Saltcoats mailing address - $40.00
• Any other person or business - $60.00
---
Pet Licences
Pet licenses are due for 2023. Fees for cats and dogs are as follows:
Male and female pets - $25
Spayed and neutered pets - $10
Replacement of lost tag - $5
Proof of vaccination against rabies within 2 years of the date of application is required for licences to be issued.
---
Message from the Laketown Leaders Club
Everyone is welcome to join the Laketown Leaders on Wednesday afternoons starting at 1:00pm in the Stirling Room to play card games, pool, shuffleboard, carpet bowling, cribbage or you can bring a favourite game! Coffee will be available mid-afternoon. Come on out to socialize and have some friendly competition. If you need a ride, that can be arranged. Spread the word, bring a friend!
---
Historic Metal Silhouette Banners
The Saltcoats Beautification Committee has been replacing the cloth banners that hung on the power poles along Commercial St with metal silhouette designs. The designs of the silhouette banners have been chosen to highlight Saltcoats' long and rich history. So far they have purchased and installed eleven metal silhouette banners. Some of the designs include a train and old station - Saltcoats was the "end of the line" in its early history, a Northwest Mounted Policeman - Saltcoats had one of the first barracks for the Northwest Mounted Police, an elevator with grain being delivered in a wagon, the old telephone office with a lineman up a pole, the old bank, a plow competition, and a tribute banner to honour our veterans. More banners highlight the groups of settlers who settled in this area - the Scottish Crofters, the Patagonian Welsh, the Ukrainians and the Hungarians. There is also a Treaty 4 banner to acknowledge our treaty relationship with First Nations. The committee has more banners on the drawing board. These designs will acknowledge Metis people and British settlers, highlight Saltcoats being the first incorporated village in the Northwest Territories and feature the environment and the need to care for it. If you have any ideas for a design or want to donate to this project, please contact the Town Office. Click here to view pictures of some of the banners.
---
Saltcoats Historic Cemetery
Rejuvenation Pro

ject



Some progress has been made on aspects of the Saltcoats Historic Cemetery Rejuvenation Project. Winter will be a time when our committee gathers information, makes specific plans, and looks after items that are not dependent on summer weather. After a great start, donations have stalled and we need all who care about the cemetery's maintenance and improvement to do what they can to provide funds and, very importantly, get the message out to family and friends who no longer live within the community but who would have loved ones buried in this cemetery. Personal notes, Facebook pages, whatever connects you with others, have already proven helpful. Late summer and through the fall season just are not times when we give a lot of attention to projects like this. Please do all you can to pass the word to family and friends and to encourage them to help with this worthy effort to honour those who have gone before us. For more information, a list of projects and ways to help, please click here.

---
Utility Receipts
Utility receipts will no longer be mailed out to residents. If you would like to receive your utility receipts, we will be more than happy to email them to you or you can come to the Town Office and pick them up. If you would like emails, there is a consent form that is required to be filled out.
Click here to view the form.
---
Email Notices
The Town of Saltcoats is offering residents the opportunity to receive specific municipal notices as attachments in an e-mail rather than by regular mail. There is a consent form to fill out before receiving e-mails. Click here to view the form.
---
E-Transfer Payments
Town of Saltcoats accepts e-Transfers for the following payments:
taxes, utilities, licenses, invoices and other general payment items
Our email address for e-Transfers is:
saltcoatspayments@sasktel.net
Please include the following information in the message section of the e-Transfer:
• item you are making a payment on
• your account number or roll number if applicable
• your address if applicable
If you have any questions about sending e-Transfers, please contact the Town Office.