Welcome to the Town of Saltcoats
Saltcoats is a growing community. It has several locally owned businesses, active community organizations, a K-8 school, preschool, daycare, and a variety of cultural and recreational facilities. Saltcoats is located 27 km from the City of Yorkton. Due to the picturesque setting of Anderson Lake, Saltcoats has

earned the title of "The Laketown".
---

---
Free Singing Lessons for Kids
Sing Like A STAR is a music school for kids based in Regina. They are offering three FREE holiday-themed singing lessons in December. The lessons are for kids in grades 2-8 and will be held online through Zoom on Tuesday evenings (December 6, 14 and 20, 2022). Families who wish to participate are invited to see all the details and sign up by clicking here.
---
Results of By-Election

---
---
Public Notice
Residents of Saltcoats are asked to remove residential garbage and recycle bins post pickup by OSS as soon as possible. By removing the bins from the roadway, the ability to grade the roads is greatly increased. Thank you for your understanding on this matter.
---
Public Notice
1. No person shall deposit or cause to be deposited, ice or snow on any street right of way.
As a result of such action, offenders may be fined $50 for first offence and $100 for a second offence.
Please deposit snow within your own property boundaries.
Thank you for your understanding on this matter.
---

---
Saltcoats Historic Cemetery
Rejuvenation Pro

ject



Some progress has been made on aspects of the Saltcoats Historic Cemetery Rejuvenation Project. Winter will be a time when our committee gathers information, makes specific plans, and looks after items that are not dependent on summer weather. After a great start, donations have stalled and we need all who care about the cemetery's maintenance and improvement to do what they can to provide funds and, very importantly, get the message out to family and friends who no longer live within the community but who would have loved ones buried in this cemetery. Personal notes, Facebook pages, whatever connects you with others, have already proven helpful. Late summer and through the fall season just are not times when we give a lot of attention to projects like this. Please do all you can to pass the word to family and friends and to encourage them to help with this worthy effort to honour those who have gone before us. For more information, a list of projects and ways to help, please click here.

---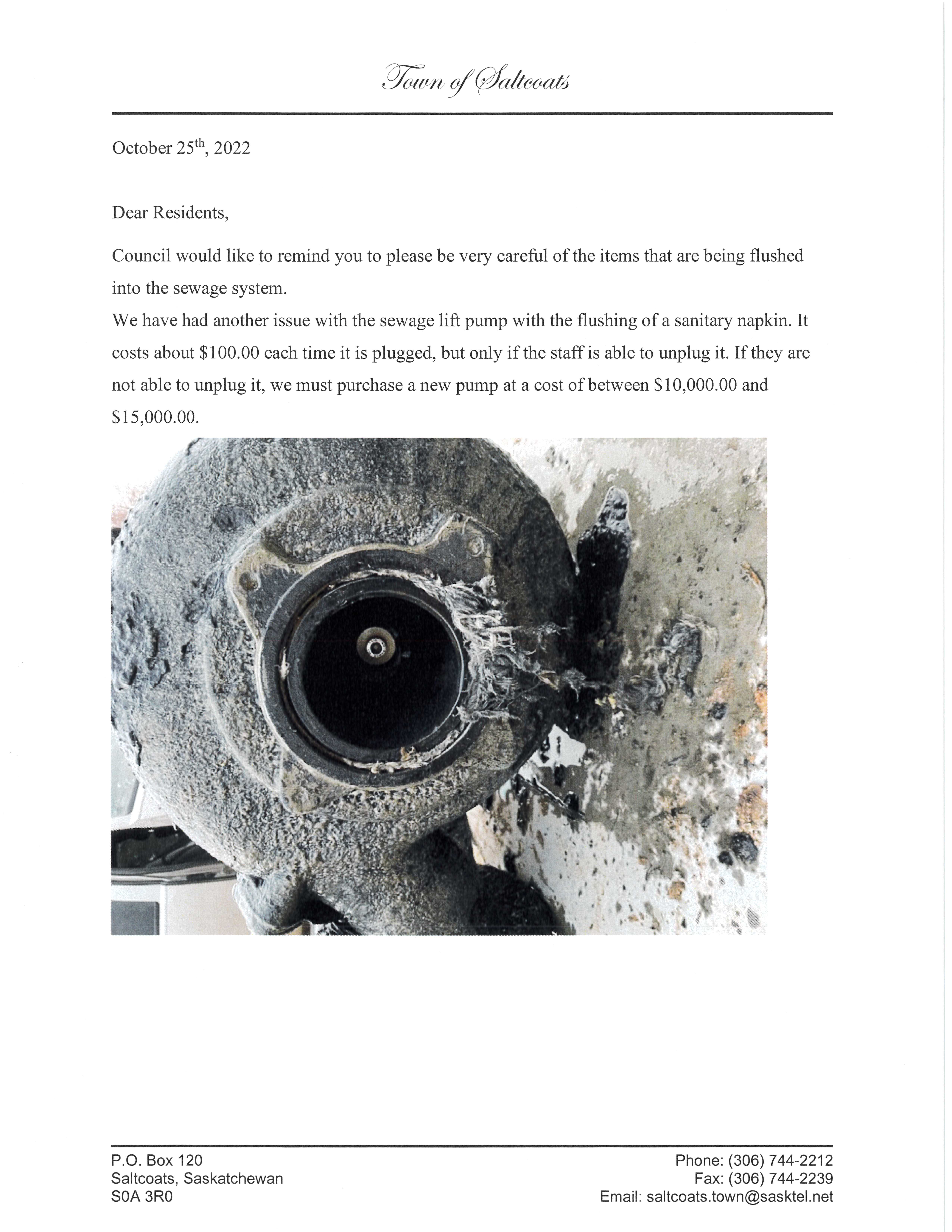 ---
Snow Removal Services
The Saltcoats Housing Authority is seeking the services of an individual or business to provide snow removal services at 17 housing units at 4 buildings in the Town of Saltcoats. Services include snow and ice removal from steps, walkways and parking areas as well as application of ice melt and/or traction aid materials as required.
Services must be performed as required on a timely basis to maintain clear, safe access to and from the housing units. This could mean services may be required daily or even more than once per day, depending on weather conditions. A daily log is required to be completed.
The services will be provided on contract; this is not a position of employment. The 'contractor' will be required to provide equipment including shovels, brooms, blower, gas, etc.
Individuals or businesses interested in providing these services are invited to contact:
Jerome Niezgoda, Manager
Saltcoats Housing Authority
(306) 621-9206 or jniezgoda.saltcoats@housingauthoritysk.com
---
December Council Meeting
The December 2022 Council meeting date has been changed from December 21 to December 14.
---
Saltcoats United Church Donations
Saltcoats United Church is asking for donations to give to Bruno's Place in Yorkton. Drop off boxes are located at the Saltcoats United Church and the Town Office.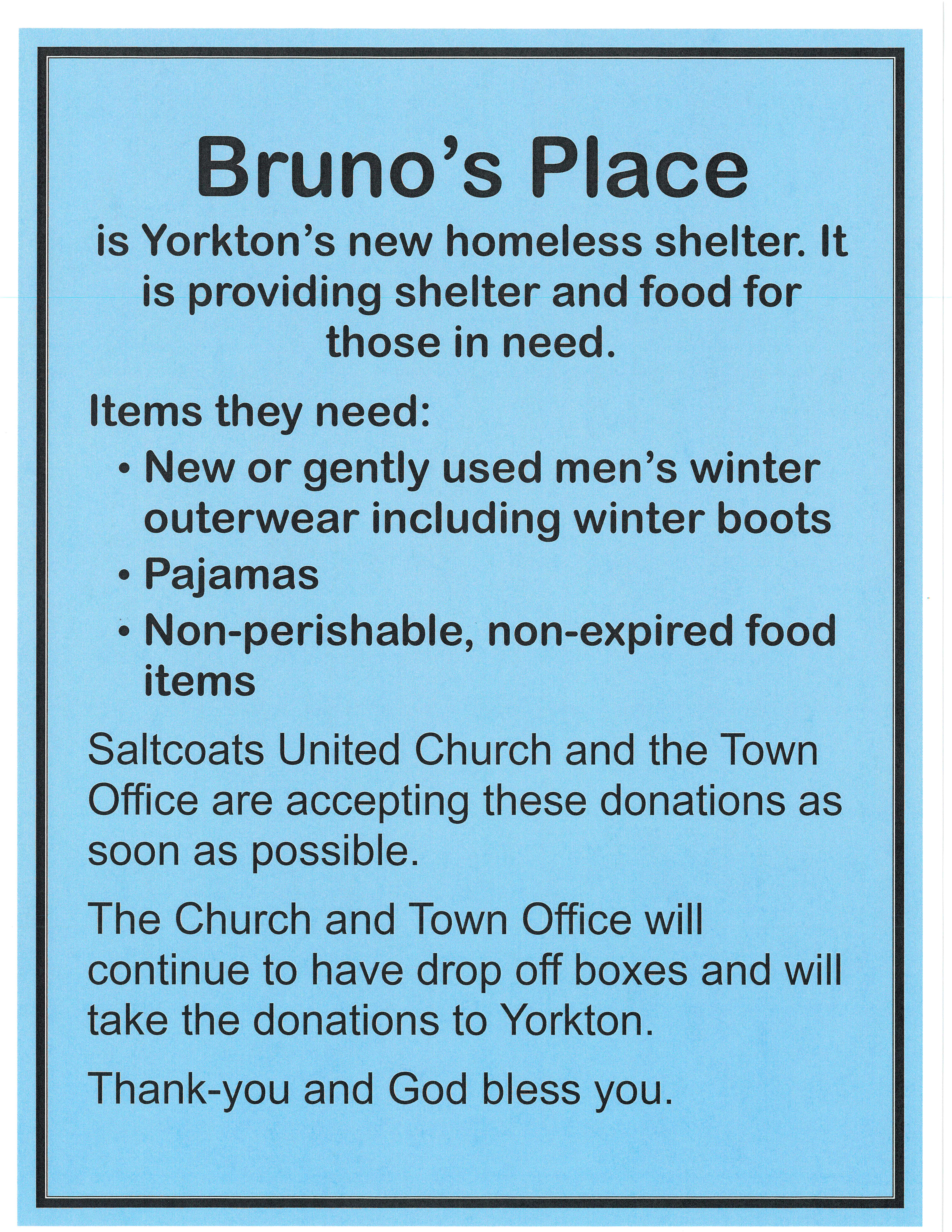 ---
Covid-19 Test Kits
Covid-19 test kits are available for free at the Town Office.
---
Waste Disposal Site on High Street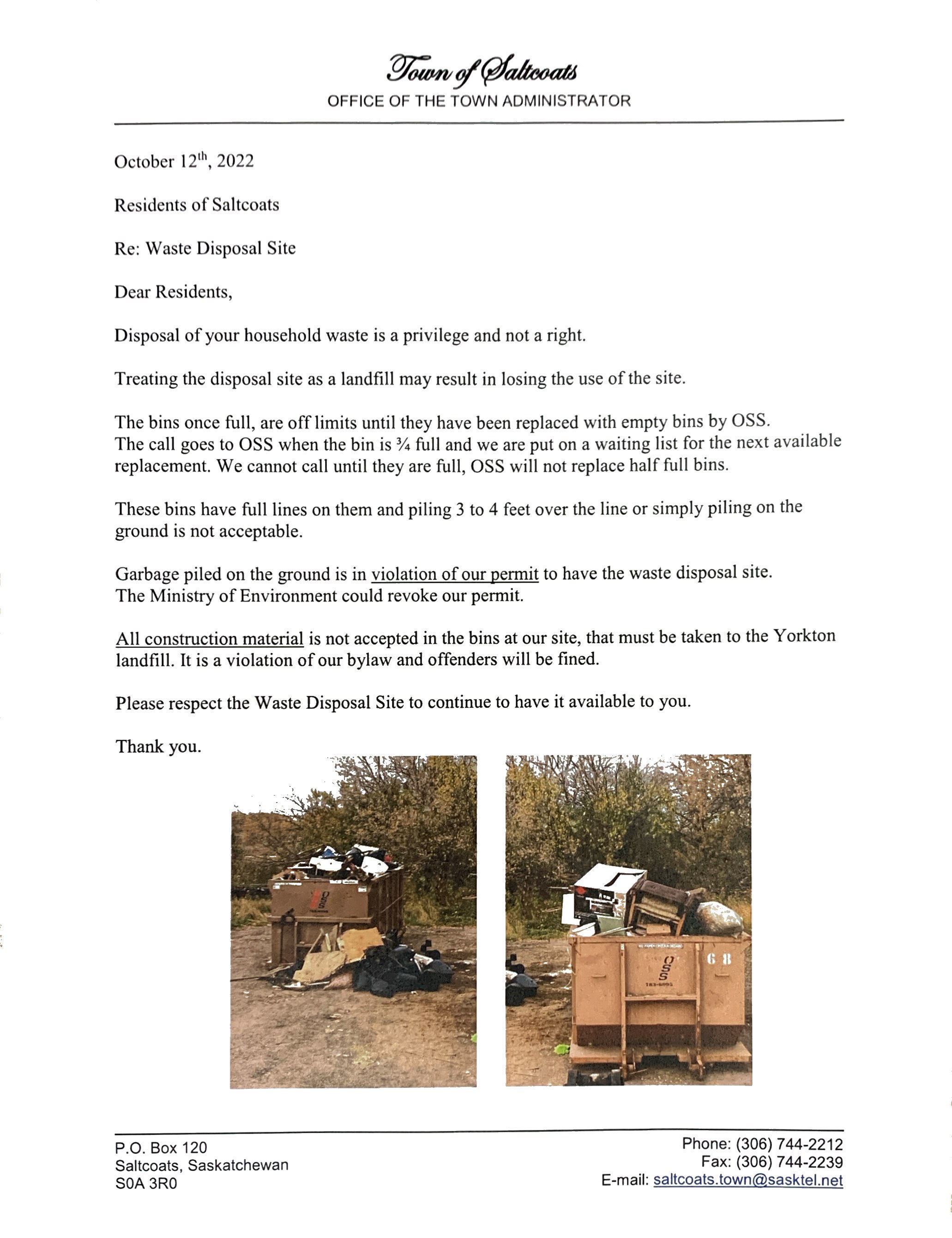 ---
Reminder to Residents
When taking your dogs for walks around town, please be courteous and clean up after them.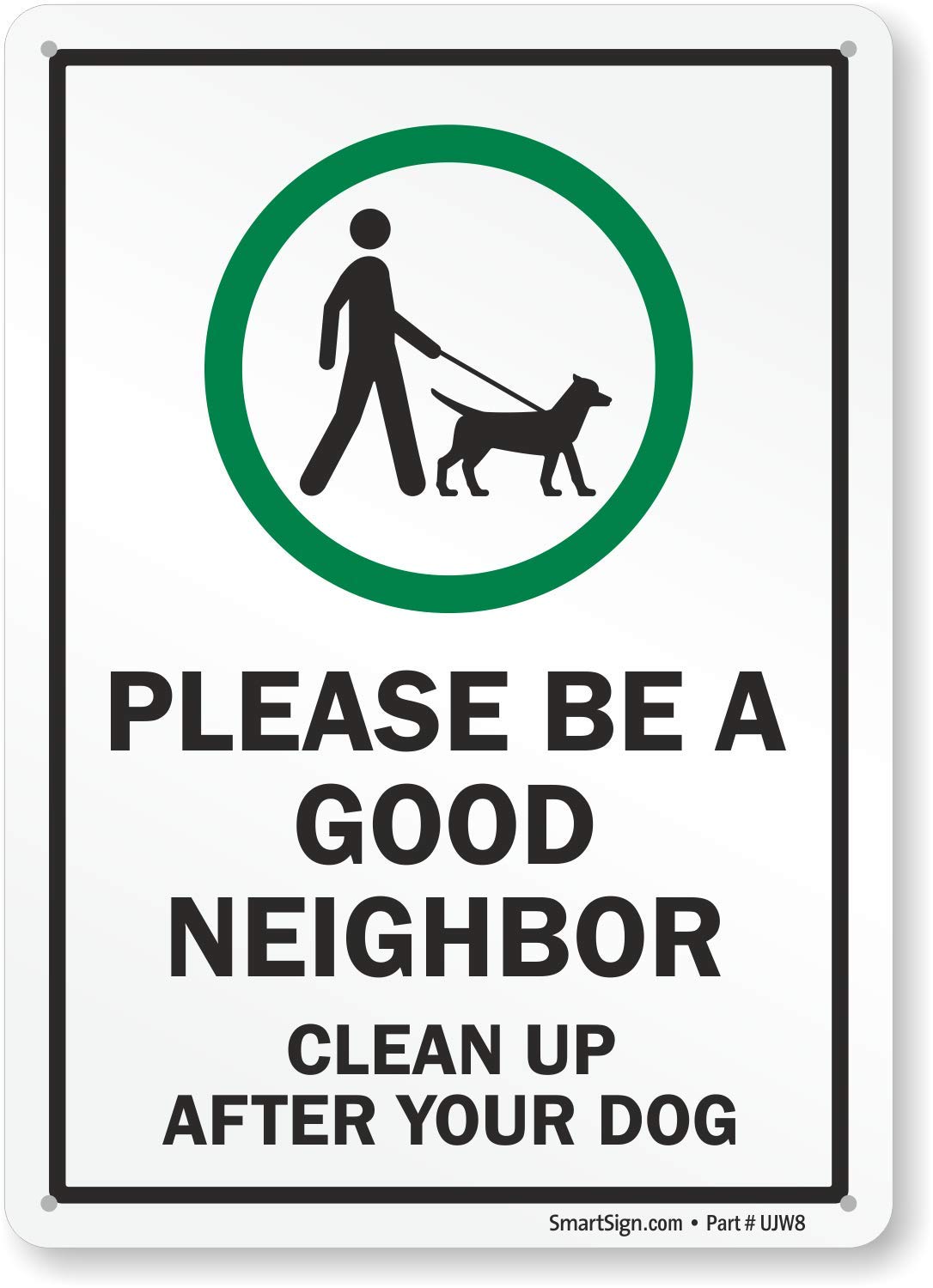 ---
Utility Receipts
Utility receipts will no longer be mailed out to residents. If you would like to receive your utility receipts, we will be more than happy to email them to you or you can come to the Town Office and pick them up. If you would like emails, there is a consent form that is required to be filled out.
Click here to view the form.
---
Email Notices
The Town of Saltcoats is offering residents the opportunity to receive specific municipal notices as attachments in an e-mail rather than by regular mail. There is a consent form to fill out before receiving e-mails. Click here to view the form.
---
E-Transfer Payments
Town of Saltcoats accepts e-Transfers for the following payments:
taxes, utilities, licenses, invoices and other general payment items
Our email address for e-Transfers is:
saltcoatspayments@sasktel.net
Please include the following information in the message section of the e-Transfer:
• item you are making a payment on
• your account number or roll number if applicable
• your address if applicable
If you have any questions about sending e-Transfers, please contact the Town Office.